Welcome to Burrington's community web site
The village of Burrington looks out over the Taw valley in beautiful North Devon.  Our community is vibrant and friendly and we've set up this web site to provide as much information as possible to residents and visitors.  The site will always be evolving, if there is something that isn't covered or needs to be updated please contact us, via the 'contact' page.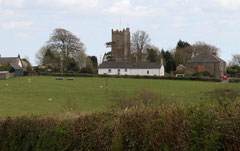 Burrington is a small village in north Devon in the south west of England, 4 miles north west of Chumleigh and 12 miles south of Barnstaple. The village is approximately 540 feet above sea level, so Exmoor to the north and Dartmoor to the south are both visible from Burrington.
CORONAVIRUS:
PUBLIC
INFORMATION
The Government and NHS are well prepared to deal with this virus.
You can help too.

The best way to protect yourself and others is:
Wash your hands with soap and water, or use a sanitiser
gel, regularly throughout the day.
Catch your cough or sneeze in a tissue, bin it, and wash your hands.
If you have recently arrived back from specified areas follow the returning traveller advice.
Check the list of areas and find out more at nhs.uk/coronavirus