News
The Post Office Van
For future reference, the number to call with in case of any issues with the postal service is: 01647 24440.
Village Shop
In PICKARDS COUNTRY STORE,
Do pop in to see what we have in store. We will sell everyday needs, plus a few specials, all at competitive prices.
As many as possible locally sourced. If we don't have what you want, let us know and we will do our best to help.
Shop opening times daily from 8.00 until 5.00 Saturdays 9.00 until 1.00
70th V.J. Anniversary – Burrington, North Devon
Burrington is a small rural village in North Devon, with a population of approximately 500.
On Sunday 16th August a Service of Remembrance was held in the Parish Church, followed by a Lunch, organised by local volunteers, in the Parish Hall.
The Service was attended by the British Legion Officials a Bugler Mr. Albert Hall, the Burma Star Banner was held by Mr. John Hayes "a friend of Burma Star". The exhortation was said by Mr. Antony Sharpe (retired Lt. Col) and the Kohima Epitaph was said by Gordon P Short who served with the 4th Btn Royal West Kent, at the "D.C's Tennis Court Battle of Kohima" accompanied by Victor Mock who served with the 1st Btn Devonshire Regt at "the Siege of Imphal".
Poems were read by Mrs Susan Bailey and the address, which included "the Story of the Pack of Cards" was given by Mr. John Chapple.
Over 120 attended and the collection taken in aid of the Heroes Return Charity and amounted to £440.00p.
A flypast of three vintage planes (one from the Burma Campaign) passed overhead as the parishioners and friends made their way from the Church to the Parish Hall for a lunch.
During the lunch Mr. Victor Mock and Gordon Short, gave brief reminiscences of their wartime experiences. Unfortunately the time was limited because; the members of the British Legion and our two surviving Veterans had to leave to attend another ceremony at the Cobbaton Army Museum.
Japanese Swords and Kukri's given or lent to the Barnstaple Museum, were on display and laid out with other magazines, maps, rail tickets, photos and papers that had survived the years. These were available to look at in the hall after the lunch.
Victor and Gordon were two of the only five surviving Veterans in North Devon, fit enough to attend the memorial Service organised by the British Legion in Rock Park, Barnstaple on the 15th August.
The proceeds of the lunch, after expenses, were £920.00p.
Therefore, a total of £1360.00p was raised for the "Hero's Charity"
"A terrific result by a very small Parish"
Sent by: Gordon P Short, Ticavin House, Burrington, Umberleigh, North Devon, EX37 9JJ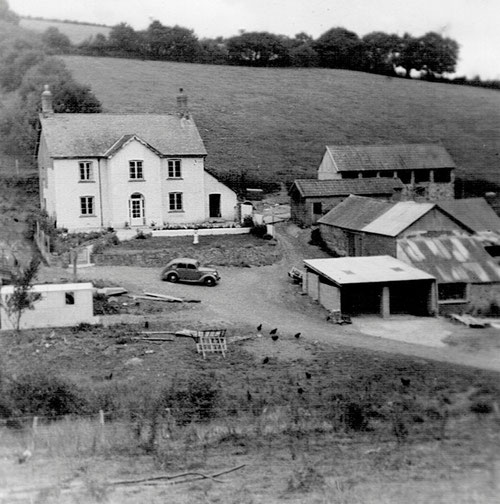 We are in the process of trying to establish more about the history of Churchlands, so would like to take this opportunity to add a photo please to see if it prompts a response.
We have lived here for the last 6 years and have been slowly renovating the property. We are located down by the river, between the garage at Fortescue Cross and Hansford House, tucked away.
Parish and census records have helped us established occupants going back to the 1840's but we are still no further with a date of construction – we are pretty sure that the property was built on the site of an old farm and while it has been called Churchlands farm for some while, started life as Churchland. It's an unusual rural property and in design more in keeping with an old manse or vicarage.
The above photo was given to us recently by Wendy Downing, who was born here and is from the 1950's.
We have had many visitors over the years who have had a link to Churchlands, normally holidaying when the property was rented out – and the owner staying close by in a caravan. We hear tales of donkey rides up to the village, people generally loved the place being sheltered and quiet and close to the water.
Clive & Brenda Madge
01769 520262
Churchlands, Burrington EX37 9JR
Burrington Parish Council - Footpaths
It has been brought to the Parish Council's attention that there have been several incidents of dog walkers failing to control their dogs when walking on the Public footpaths around our Parish.
So please heed the advice below.
Please remember that a dog can accompany a walker or rider along a public right of
way. But this right extends only to the line of the path, not onto the land on either
side. It is recommended that dogs be kept on a lead particularly when there is stock in
a field and always under close control please. The NFU produces a useful leaflet called 'Worrying of Livestock by Dogs'. Advice can be found on the National Farmers Union Office website.
The Countryside Code
There are six sections of The Countryside Code dedicated to helping members of the public respect, protect and enjoy the countryside.
• Be safe and plan ahead
• Follow advice and any local signs
• Leave gates and property as you find them
• Protect plants and animals and take your litter home
• Keep dogs under close control
• Consider other people
Everyone knows how unpleasant dog mess is and it
can cause infections, so always clean up after your
dog and get rid of the mess responsibly –' bag it
and bin it'. Make sure your dog is wormed regularly
to protect it, other animals and people.
Burrington Parish Council have provided four dog bins. 
PLEASE USE THEM
The person in charge of a dog, whether they are the owner or not, must by law (under the Clean Neighbourhoods and Environment Act 2005  ) clean up after the dog has fouled in any public access areas. This includes car parks, grass verges, recreation and sports grounds, parks, river walks, pavements and footpaths, gutters and carriageways, beaches. Failure to do so can result in a fixed penalty of £75 or a maximum fine of £1,000.
If you witness a dog fouling incident, please report it to us through the online form available on the North Devon Council Environmental Health page. You can also download a copy of our dog fouling report leaflet. 
For an interactive map showing public rights of way please click here
A letter from the Northern,Eastern and Western Clinical Commissioning Group
Urgent and necessary measures to address patient demand
Dear Colleague
As a key stakeholder I'm writing to inform you that we expect to announce a series of urgent and necessary measures to address a worsening of the CCG's financial situation shortly.
As you may be aware, last year the CCG returned a £14.5 million deficit (known as the control total) and this year we have been predicting the same.
Our confidence in meeting the control total at the end of year has gradually declined as the situation has become clearer; in short, demand for services is outstripping what we can afford.
Whatever the actual cause of the increase in demand, it is having a serious effect on the financial position of our own organisation – and if we fail to do deal with it now as the area's main commissioner, services will suffer.
We must act to protect essential services through our busiest winter months and ensure that care is there for our patients when they really need it.
The CCG has already begun to implement a series of measures designed to improve efficiency in the system and encourage patients to contribute to improving their own health outcomes.
This includes the following:
· Requiring morbidly obese patients to lose weight prior to routine surgery
· Requiring smokers to quit for at least six weeks prior to routine surgery
· Introduce criteria-based approval for routine procedures such as hernias, botox injections and cataracts
· Reduce unnecessary consultant to consultant referrals
· Suspend treatments where there is little or poor evidence of outcomes
These measures bring the CCG into line with similar organisations in the NHS. However, they are not enough.
We agreed that the organisation would work up a series of measures that would prioritise those patients most in need, while at the same time, increasing efficiency in the wider system – and the CCG itself.
Our clinical chairs and managing directors are now busy working up proposals, in collaboration with NHS England and others, so that we can submit a paper to the next Governing Body on November 5.
This paper will be published on the CCG's website on October 29 – 7 days before the meeting.
Throughout the implementation of our 'in-year' plan we will be prioritising those services and requirements laid out in the NHS Constitution.
They include (but are not limited to):
· Consultant-led treatment within a maximum of 18-weeks from referral for non- urgent conditions
· Maximum four-hour wait in A&E from arrival to admission
· Maximum 7 day wait for follow-up after discharge from psychiatric in-patient care
· Being seen by a cancer specialist within a maximum of two weeks from GP referral where cancer is suspected
· Maximum 62-day wait from referral from an NHS cancer screening service to first treatment
· Patients waiting for a diagnostic test should have been waiting less than 6 weeks from referral
· Ambulance trusts to respond to 95 per cent of category A calls within 19 minutes of a request being made
To meet the challenge of prioritising patient need while at the same time meeting our control total, the Governing Body will be asked to temporarily change how we work.
We are intending to split our management and administration resource between 'business as usual' and 'in-year priorities'.
'Business as usual' will be led by Jerry Clough while the in-year priority areas, below, will be led by the following:
· Acute contract management – Jerry Clough, chief operating officer and western managing director
· Urgent care – Caroline Dawe, managing director, northern
· Planned care – John Finn, managing director, Eastern
· Continuing Healthcare –Lorna Collingwood-Burke, chief nurse
· CCG running costs – Hugh Groves, director of finance
· Prescribing/medicines management – John Finn, managing director, Eastern
· Individual patient placements – Paul O'Sullivan, director of partnerships
· Other smaller contracts – Hugh Groves, director of finance
Finally, just a reminder that the Governing Body paper detailed the proposals will be available on our website www.newdevonccg.nhs.uk from October 29.
Should you have any questions about the paper when it is published please contact me on (01769) 575151 or caroline.dawe@nhs.net
I will, of course, be happy to answer any queries that you have.
Thank you.
Yours sincerely,
Caroline Dawe
The Parish Magazine
For all local news and events,the Burrington Community Magazine Magazine is available at £5 a year, please send cheques payable to Burrington P.C.C. to Margaret Bolt, Week Farm, Burrington, EX37 9BW. The magazine can be collected from the village shop or the Church .

What is a Dementia Friend?
A Dementia Friend learns a little bit more about what it's like to live with dementia and then turns that understanding into action – anyone of any age can be a Dementia Friend. From helping someone to find the right bus to spreading the word about dementia on social media. Every action counts.
Burrington could become a Dementia Friendly Community
If you are interested in becoming a Dementia Friend and joining a national initiative that will help people living with dementia feel included in their communities, we can arrange for an information session to be run here in the village. The session lasts around one hour. You will learn more about dementia and how you can help to create dementia friendly communities.
If you are interested in being part of this important national initiative please contact Susan Bailey, Meadow Park on 01769 520413. We need a minimum of 6 people to run this course. As soon as we have the minimum number of people we can fix a date for the Dementia Champion to run our information session.
Turning Understanding into Action
Dementia actions could include:
Behaving patiently with someone showing the signs of dementia

spending more time with, helping or supporting a friend or relatives affected by dementia

signposting people affected by dementia to more information and support

volunteering with an organisation to support people with dementia

fundraising for a dementia-related cause

helping your workplace to be more dementia friendly

telling other people about Dementia Friends or spreading the word through social media
Keep Our Roads Safe
Just a reminder that everyone can report faulty road surfaces directly to Devon County Council.
With the winter approaching it would be good for the roads to be in good condition.