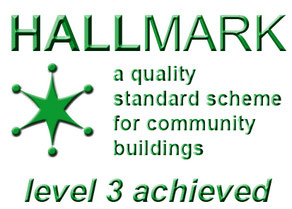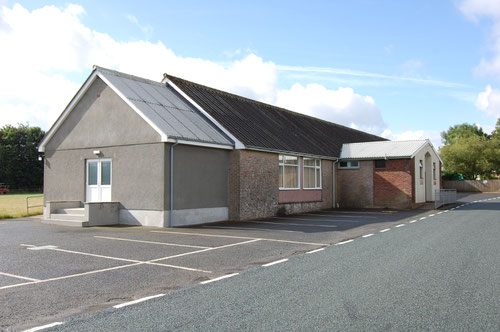 BURRINGTON PARISH HALL & RECREATION AREA
 MUGA  please collect key from and pay the Caretaker
Skittles If playing off skittles, please contact the Caretaker for the key.
WIFI
All up to date! - The hall now has free WiFi for hirers – please ask for more details when booking. A projector is also available for hire.
HALLSHARE
A local initiative, to bring halls across Devon together, enabling them to get together sharing ideas,  information and good practise. Key speakers present on topical subjects. Paul Bailey has been representing Burrington and feels  the meetings are beneficial.
HALLMARK
This is a quality standard for Devon Community buildings. We have achieved Hallmark 3 the final stage of this standard setting initiative – and in 2019 have been reassessed and still maintained our Hallmark 3 status.
CHAMPION
Stemming from the Hallmark and Hallshare, we are lucky to have a Hall Champion in our midst! This title has been awarded to Paul Bailey and means he will be able to advise other halls on funding and good practise and be part of a team that assess halls for their Hallmark.
LEADER 4
This body have been hugely instrumental in hall improvements through funding. See the magazine articles in  the hall for more details.
DEVON COMMUNITY BUILDINGS
We are now members of Devon Community Buildings, which places us on their website and keeps us up to date with hall affairs, funding and other members benefits. www.devonvillagehalls.co.uk
COURSES
The recent 1st Aid and Food Safety courses were well attended and informative. Any other courses you would like to see in the hall? Please get in touch – details at base of page.
COMMITTEE
If you would like to be involved in the running of the hall, please get  in touch or come along to the AGM.
WHO USES THE HALL?
Regular users are, Comrades Club, Flex 'n' Fun classes, Women's Link, Parish Council, over 65's community lunch.There are fundraising events often held at the hall for various local organisations. Get in touch for more details.
Private Hire & Functions
The hall has various rooms available for private functions, parties and meetings to suit your needs. You can also hire the entire building.
All rooms are heated and have air conditioning. 
A fully fitted stainless steel kitchen is capable of cooking full dinner for 120 people. 
See 'facilities' tab for more details.
Bookings and Enquiries: 01769 520601